Cars, Trucks, And Tag Along Trailers With Or Without Boat Loads
Johnson's Towing of Venice offers a full line of towing services to help you when you get stuck on the road.
Towing
We will tow your car, truck, SUV, van, or utility vehicle after an accident or when it just won't start. We can tow it to the location you specify: our shop, your home, or another location. Our secure towing beds and cables can be trusted with any size vehicle. We can also drive you home or wherever you need to go.
Flatbed Towing
For situations where a flatbed tow is necessary, we offer that service as well. We have a maximum length trailer to accommodate any vehicle.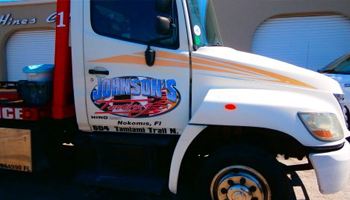 Tire Changes
Flat tires are an unexpected inconvenience and we don't always have the spare that came with the vehicle. Johnson's Towing of Venice can come out with a new tire and change it on the spot in a matter of minutes so you can continue your drive.
Roadside Assistance
If you need any type of assistance on the road, we offer full roadside assistance. This can include locksmith service to get you back in your car if you have locked your keys in (in addition to our other services).
Jump Start
When your battery has gone dead, sometimes we can jump start the car so you have enough power to drive home and recharge the battery. Our modern and reliable jumper cable kits work for many vehicles. We will come out in a car that will have the best chance at jump starting your vehicle.
Gas Delivery
Occasionally, people run out of gas before they reach a gas station, for whatever reason, it happens. Johnson's Towing of Venice will come out with a gas can to put in some gas for you. It will be enough to get you to a gas station or a nearby destination. Give us a call and we will arrive as soon as possible.
Auto Repair
You can bring your car in for auto repairs, either by driving to the shop or having your car towed in for repair. We do a wide range of repairs from small (spark plug replacement, fluid flush, brake pads) to major (gas tank leaks, engine repairs, fuel pumps, etc). Our mechanics can diagnose and repair just about anything that is wrong with your car. We will always give you an estimate and go over what we need to do before completing the repairs.
Winch Out
During bad weather or loss of vehicle control, your car can become stuck. Our team will winch your car out of mud, sand, snow, or a ditch. When you call us, describe your location and how deep in your wheels are as best as possible so we can bring the right equipment to pull you out.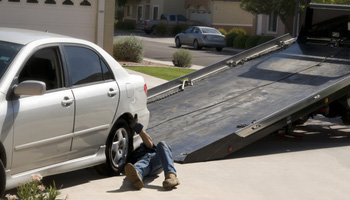 Specialized Recovery
Getting your boat stranded or caught somewhere out on the water can be scary. Johnson's Towing of Venice offers specialized recovery. We will bring your boat in from open water, pull you out of weeds and mud, and get you and your boat safely out of the water—lakes, rivers, ponds, and the ocean.
Credit Form
Job Application